so signal switches, I'm sure some of you have seen them, they're fairly easy to get, I frequently get composite one's at thrift stores for example, but what one's are best?, let's find out.
ok so first there's these.
those are composite switches, and let me tell you, they are a dime a dozen, but because the vast majority of consoles out there even up to the nintendo wii, have composite cables by default, they are so incredibly handy to have, I myself have 2 of them, but will need 3 soon because of how many consoles I have in my collection.
video quality: it's composite so it's not ideal, but it works.
Audio quality: left and Right channel stereo, analog, it works.
if you have an old atari like I do, or anything 1st through 3rd generation, you need one of these, most consoles back then only used coax cables and rca wasn't common nor popular back then, if you are lucky there are mods for S video and such but the quality won't make much difference on these old guys except in some cases.
Video quality: it's coaxial, like composite the video is one cable, blended, not the best, but it works.
Audio Quality: stereo audio, not always used, in fact old consoles that used this mostly used mono or single channel audio, analog.
Svideo... also a dime a dozen, better video quality than composite or coax, separates the color channels a bit, frequently found as hybrids that also support composite.
Video quality: better than composite, not perfect though, can get cables for 4th gen onwards (sega genesis, super nintendo, etc), or for consoles like the old atari 2600 via mods.
Audio quality: same as composite, Left and right channel stereo audio, analog.
Component, also known as RGB was the first to actually separate the colors into red, green, and blue, analog HD, frequently found on 6th generation onwards as an option (ps2, xbox, etc.)
Video quaity: not full HD, color channels are separated for much clearer picture, best analog after SCART.
Audio audio: L/R stereo audio, analog, sometimes SPDIF or digital fiberoptic audio, can support up to 7.1 surround sound if using SPDIF/Digital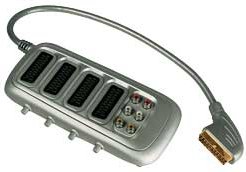 SCART, mostly french/european it's become more popular in recent years because it provides the highest video quality for many consoles made before the sega dreamcast/ps2/xbox, but it's not available on consoles like the nintendo and atari 2600, you will most likely have to import these.
Video: RGB, it separates the color channels, Analog
Audio: supports surround sound if newer cables, analog.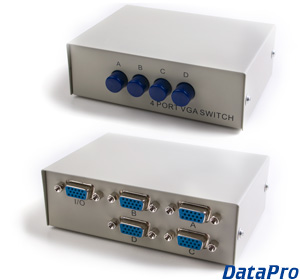 mostly used for computers VGA was also used on the sega dreamcast so I'm putting it in the list.
video: RGB, fairly clear quality, not DVI or HDMI clear though.
Audio: whatever it's not part of this standard.
DVI: basically SCART without the audio, was used before HDMI, note the 1/8" headphone jack for audio, again mostly used for computers, can be supported with adaptors.
Video: RGB, analog, high quality, HD
Audio: not part of the standard, whatever you like.
HDMI: current common standard, replaced composite/rgb/scart as the norm in most countries, common on the 7th and 8th gen consoles, can be used on older ones with converters.
The popular thing to do is get a SCART or RGB cable for a console and plug it into an HDMI upscaler/converter for the highest quality video on an HDTV for those older consoles, though that's not always needed.
Video: digital video, full spectrum, RGB etc.
Audio: Digital audio, 7.1+ surround sound, varies on the media
that's pretty much it, nothing else is really used in retrogaming.
SpookyZ - Out.