03-04-2021, 10:53 PM (This post was last modified: 03-04-2021, 11:00 PM by SpookyZalost.)
So Lockpicking in concept is simple, in fact the basic design of a standard keylock hasn't changed in centuries, only gotten more complex.
I recently learned to pick basic locks and it does occasionally come in handy when a friend or family member locks themselves out of their house, their shed, or in my case, finding an old box without a key but with a lock.
there's a few things you need to know before you start lockpicking
the first is that locks are very simple, you have the core which rotates to unlock the door.
you have the pins which slide into the core and act similar to a deadbolt on a door preventing it from turning, what lock pickers call binding.
and you have the key which pushes these pins out of the core allowing it to rotate.
now the sharp eyed among you might notice the pins are actually in two pieces.
this is because the pin stays both in the core and the lock mechanism separating at the core's rotation point.
Now that the basics are out of the way, the art of lock picking is really an art form rather than just a skill, it takes finesse and is done more by feel than anything else.
lock picking is done in two steps.
the first is using the tensioner bar.
this is usually a small piece of metal which you apply a very light tension to and place in the bottom of the keyway (where the key goes).
when you successfully set all the pins this is what turns the lock open.
the second is the lock pick it's self.
this has exactly one job, to reach into the keyway and push the pins up as the tension bar turns the core slightly thus setting them into the same state as when a key is in the lock preventing them from coming down.
if you put too much tension on the lock, the pins won't move, put too little and they won't set.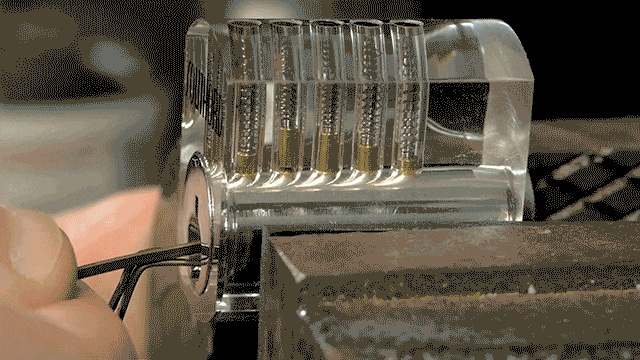 here is a transparent practice lock, it allows you to see what's going on until you get the feel for picking them since you normally can't see what's going on inside.
and that's basically how lock picking works, you're just setting the pins one by one until the lock either opens or binds forcing you to reset it.
there are other methods but this is the basic theory and one that has worked since people have been picking locks ages ago.
Disclaimer: I am not responsible with what you do with this knowledge, lock picking is legal in just about every state in the US but having lockpicks on your person without a valid reason is considered possessing burglary tools so I wouldn't carry them around with you in case you get searched.
always if you're opening somebody's door, have them sign a waver legally giving you permission to do so.
if you live in virginia you need a license to posses lock picking tools.
I do not know what the laws are in other countries but make sure you read up on what your local laws and ordinances are.
and as always, have fun with it!